Ticket Information
Dates:
Saturday, July 12, 2014

Where:
Sanborn Square Park
Downtown Boca Raton
Tickets:
$85 VIP ADMISSION
6 PM to 10 PM

$55 GENERAL ADMISSION
7 PM to 10 PM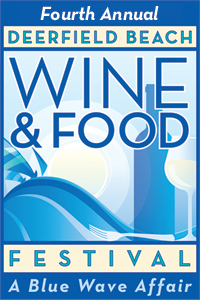 Purchase Pre-Sale Tickets at DeerfieldBeachWineAndFoodFestival.com
Grab your significant other, your best friend or the whole gang and spend the most spectacular Friday & Saturday a Culinary Enthusiast can imagine at 4th Annual Deerfield Beach Wine & Food Festival. Please your palate, step into your stride and mingle among the best chefs in South Florida at the 4th Annual Deerfield Beach Wine & Food Festival on Friday, April 25th and Saturday, April 26th, 2014.
---
3rd Annual Boca Burger Battle

A Grilling Affair!
Saturday, July 12th, 2014
THE 2013 WINNERS WERE:
Judge's Pick
for
Best Grill Master
went to:
1st place -
Bite Gastrotruck
2nd place -
Potions In Motion
3rd place -
Shake Shack
Judge's Pick
for
Best Alternative Grill Master
went to:
1st place -
4th Generation
People's Choice
for
Best Boca Burger
went to:
1st place -
Morton's Steakhouse
2nd place -
Rebel House
3rd place -
Potions In Motion
Not only is the temperature rising, the bbq grills are getting ready and Chefs are creating secret recipes as preparations for the Boca Burger Battle, A Grilling Affair! returns again for the second year on Saturday, July 13th. More than 20 contenders from all over south Florida will create their grilling masterpieces and present them to a prestige table of Grill Master Judges which includes a few well known "burger conneseuirs" like Sef the Burger Beast, Jamie Frankel from Burgers by the Beach, Stephanie Miskew from the Glamorous Gourmet, and well known celebrity Chef Dean Max in hopes of winning the Golden Burger Trophy and hold the title of the Best Boca Burger. The sizzling summer street festival is held in Sanborn Square Park located in downtown Boca Raton near Palmetto Park Road and Federal Highway.
This community event with its "backyard bbq theme" not only showcases some of the best beef, turkey, fish, and vegetarian burgers that can be found, but also has an array of summer food tasting stations sampling gourmet French fries, onion rings, tropical salads, chicken wings by Tucci's Fire N Coal Pizza, rum cakes, liquor infused ice cream and good old apple pie. Cockspur Rum and Iceberg Vodka will be making its debut at the battle to wet your whistle with Electric Lemonade and Rum Punch. You can also quench your thirst with a variety of Holy Mackerel craft beers, Madria Sangria, Moscato wine and GEM spring water just to mention a few of the Beer, Wine and Spirits selections served this year. Be sure to visit our new Wine Store on your way out and receive Special Discounts on wine by the bottle and by the case!
Boca Burger Battle's Chief Grill Master this is year is Chef Wes Bonner who is Publix Aprons Resident Chef. Wes graduated Summa Cum Laude from Johnson and Wales and has a strong passion for the culinary arts. The Chief Grill Master will oversee all of the Battle's Contenders, create the judging criteria and fiercely lead the Grill Master Judges on their path to burger nirvana. The judges will decide on Best of Show and Best Alternative Burger while the guests get to vote with their wooden chip where the "Peoples Choice" will determine the champion and hold the title for one year as the Best Boca Burger. Defending 2012 champion Rebel House, a "renegade" restaurant & bar in downtown Boca Raton will be back to defend their title. All spatulas down, The Rebel Burger took the Judges Pick and the People's Choice awards for the inaugural event.
This year's battle will introduce the ultimate cooking experience featuring the Big Green Egg, a ceramic kamando-style barbecue grill coming down from Atlanta Georgia. This is the most versatile outdoor cooking product on the market. An additional "eggstavaganza" at the Boca Burger Battle, is the Big Green Egg Cooking Academy will host the interactive Cooking Alley teaching guests all the tips and tricks to cooking pulled pork, brisket, ribs and chicken. And yes, there will be plenty of delicious samplings to go around for everyone.
Portion of proceeds from the Boca Burger Battle benefit PROPEL, www.PropelYourFuture.org, People Reaching Out to Provide Education and Leadership, a 501c3 Non Profit Organization located in Boca Raton. PROPEL's goal is to address the needs of youth and be a catalyst for change, one life at a time. They offer weekly programming and special events in the areas of arts, education and recreation to best forward the future of our youth.
The Boca Burger Battle is presented by the Big Green Egg, JM Lexus, Madria Sangria and produced by local event production company BocaRaton.com & The BITES! Network, which also produces the Galt Mile, Deerfield Beach & Boca Raton Wine and Food Festivals. And, coming soon is their new project WineEvents.com
General admission tickets are $55 per person and VIP tickets are $85 per person. All ticket holders receive unlimited food and drink tastings regardless of ticket type. Burger Battle VIP Guests will enjoy an early bird entrance (6 PM for VIP and 7 PM for General Admission), access to the Grill Master's Lounge, and 2-4-1 cocktails at the sizzling summer after party hosted by the new Jazziz Nightlife where they can mingle with the Judges, Contenders and applaud the new Champion. This is a 21 + year old event from 6 pm to 10 pm, No Pets PLEASE. Event is Rain or Shine! You can purchase Tickets Online or call 561-338-7594. See you at A Grilling Affair!
---
2012 WINNERS WERE:
The 1st, 2nd and 3rd place winners in each category:

Judge's Pick for Best Grill Master went to:
1st place - Rebel House
2nd place - Gimme A Burger
3rd place - Big Joe's Burgers & Wings

Judge's Pick for Best Alternative Grill Master went to:
1st place - The English Tap & Beer Garden
2nd place - 4th Generation
3rd place - Irie Spice

People's Choice for Best Boca Burger went to:
1st place - Rebel House
2nd place - Super Dave's Diner
3rd place - Red's Backwood BBQ

---
2012 BURGER BATTLE VIDEO:
---
2013 Live Performance by Groove Line

Groove Line is one of the top dance/party bands in South Florida. Weddings, parties and corporate events are our specialty. We are also available special events, fundraisers, community and charity events. We promise that Groove Line will get your feet moving and get your soul grooving. Providing a mix of songs ranging from 50's to today's top 40, Disco to Rock, Swing to Soul, and Classical to Jazz, we can help make your next party a time to remember. Groove Line performs 100% LIVE! We don't use background tracks or sequencers. You also get THREE..count them…THREE front vocalists along with FIVE professional backline musicians that also provide background vocals. Groove Line just performed at the 3rd Annual Deerfield Beach Wine & Food Festival in April. The crowd loved them so we're bringing them back to Rock the Battle!
---
TAKE A BITE AND JOIN THE BATTLE!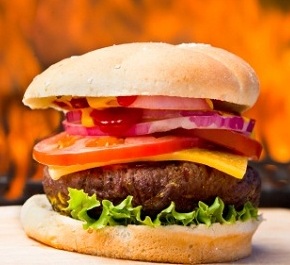 ---