Ticket Information
Dates:
Saturday, July 11, 2015

Where:
Sanborn Square Park
72 N. Federal Highway
Downtown Boca Raton
Tickets:
VIP ADMISSION
6 PM to 10 PM

GENERAL ADMISSION
7 PM to 10 PM

4th Annual Boca Burger Battle

A Grilling Affair!
Saturday, July 11th, 2015
Pre-Sale Burger Battle Tickets Now On Sale
JOIN OUR FACEBOOK PAGE TO STAY UP TO DATE...

---
Upcoming 2015 South Florida Festivals

Pre-Sale Tickets Now On Sale...click logo to Purchase Tickets
The 5th Annual Deerfield Beach Wine & Food Festival, A Blue Wave Affair! is for the Foodie Family! For the first time, the Deerfield Beach Wine & Food Festival will be a "Family Fun Day" a family-friendly event as part of the 5th Annual Grand Tasting Culinary Celebration on Saturday, May 30th from 1 PM to 9 PM. Advance Tickets: $15 for Adults | $7 for Kids (Kids 10 yrs old and under FREE) Purchase Tickets at DBWFF.com
---
The 4th Annual Boca Burger Battle is expanding onto Federal Highway this year...
Not only is the temperature rising, the bbq grills are getting ready and Chefs are creating secret recipes as preparations for the Boca Burger Battle, A Grilling Affair! returns again for the fourth year on Saturday, July 11th, 2015. Last year we featured these 19 Battle Contenders from south Florida; Boca Raton is featuring Morton's Steak House, Potions in Motion, Shake Shack, 4th Generation Market, Moonshine Molly's Country Saloon, Ruth's Chris Steak House, Boca Burger House, Red's Backwoods BBQ, 13 American Table and Cuthill's Bar & Grill; Deerfield Beach is featuring Burger Craze and Tucker Duke's Lunchbox; Delray Beach is featuring Salt 7; Fort Lauderdale is featuring Bite Gastrotruck; Lake Worth is featuring Benny's On The Beach and Moran's Italian Bistro & Brick Oven; Oakland Park is featuring Green Spot Kitchen; and Pompano Beach is featuring McCoy's Restaurant. Each hand-picked chef will create their grilling masterpieces and present them to a prestige table of Grill Master Judges which includes a few well known "burger conneseuirs" like Jamie Frankel from Burgers by the Beach, and Internationally acclaimed Celebrity Chef Ron Duprat, best know as one of the top competitors on Bravo TV's "Top Chef". The Grill Master Judges will judge each contenders burger and will award the winning the titles of Best Grill Master and Best Alternative Grill Master while the guests get to vote with their wooden chip where the "Peoples Choice" will determine the champion and hold the title as the Best Boca Burger. Defending 2013 champions Bite Gastrotruck, will be back to defend their 2013 Champion for Judges pick for "Best Grill Master" and Morton's Steak House, will be back to defend their 2013 Peoples Choice for "Best Boca Burger". The sizzling summer festival is held in Sanborn Square Park located in downtown Boca Raton near Palmetto Park Road and Federal Highway.

This community event with its "backyard bbq theme" not only showcases some of the best beef and alternative burgers that can be found, but also has an array of summer food tasting stations sampling gourmet French fries, onion rings, tropical salads, truffle mac and cheese by Oceans 234 to name a few. Cockspur Rum and Svedka Vodka will be making its debut at the battle to wet your whistle. You can also quench your thirst with a variety of Holy Mackerel craft beers, Madria Sangria, Moscato wine and Nestle spring water just to mention a few of the Beer, Wine and Spirits selections served this year. Be sure to visit our new Wine Store on your way out and receive Special Discounts on wine by the bottle and by the case!

NEW THIS YEAR! - We will introduce Star Motorcycle's new cruiser motorcycle, the Bold. This year guests will experience some of the top Star motorcycles through a fun and hands-on display built into our interactive truck and trailer. Come check out their Bolt customization game, photo op & full lineup of new Star Motorcycles!
NEW THIS YEAR!
- Are you up for the
Boca Burger Challenge
?
Do you think you have what it takes to eat the most of Lil' Ole Caboose Boxcar Burgers in only 8 minutes? Then join the Boca Burger Challenge! Email us at BocaBurgerBattle@BocaRaton.com. We're only accepting 5 contenders ...we have 0 spots left (try back next year!). The Winner receives a Life-Time Ticket to the annual Boca Burger Battle and bragging rights as the Boca Burger Challenge Champion!
Portion of proceeds from the Boca Burger Battle benefit PROPEL, www.PropelYourFuture.org, People Reaching Out to Provide Education and Leadership, a 501c3 Non Profit Organization located in Boca Raton. PROPEL's goal is to address the needs of youth and be a catalyst for change, one life at a time. They offer weekly programming and special events in the areas of arts, education and recreation to best forward the future of our youth.

The Boca Burger Battle is presented by WineEvents.com, and produced by local event production company BocaRaton.com & The BITES! Network, which also produces the Galt Mile Wine & Food Festival, Deerfield Beach Wine & Food Festival & celebrating its 5th Annual is the Boca Raton Wine and Food Festival.

General Admission tickets are $50 per person and VIP tickets are $120 per person. All ticket holders receive unlimited food and drink tastings regardless of ticket type. Burger Battle VIP Guests will enjoy an early bird entrance (6 PM for VIP and 7 PM for General Admission), VIP's have access to the Grill Master's Lounge sponsored by IKEA, and 2-4-1 cocktails at the sizzling summer after party hosted by the new Moonshine Molly's Country Saloon where they can mingle with the Judges, Contenders and applaud the new Champion. This is a 21 + year old event from 6 pm to 10 pm, No Pets PLEASE. Event is Rain or Shine! You can purchase Tickets Online or call 561.338.7594.

We're looking forward to seeing you at A Grilling Affair!
---
BURGER BATTLE VIDEO:
---
2014 Live Performance by Classic Rock Therapy
Classic Rock Therapy (CRT) started out in 2006 as five good friends getting together to jam and have turned into South Florida's favorite party band. Fronted by energetic and personable frontman Mitch Lautman and playing classic / current rock and plenty of great dance music it's always a party with CRT. From Aerosmith to ZZ Top, CRT plays mostly popular recognizable songs with some seldom heard eclectic gems thrown in. You will be saying to yourself "Wow, I love that song and haven't heard it in years." Mitch frequently comes out into the audience and lets people "sing along with Mitch". These guys are all good friends and it shows and it's obvious they know how to have fun up on stage. Other members include John Prout on guitar and vocals, Terry Cantrell on guitar and vocals, Duncan Fernandez on bass and vocals and Richard Seidelman on drums. Check out the band at Classic Rock Therapy. For booking, please contact Mitch at 954.536.2401. Come to a show and get some THERAPY...!
---
TAKE A BITE AND JOIN THE BATTLE!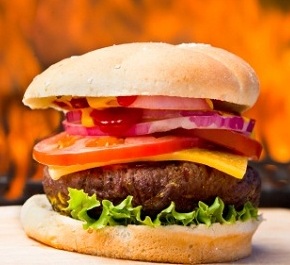 ---
THE 2014 BURGER BATTLE WINNERS WERE:
Judge's Pick
for
"Best Grill Master"
went to:
1st Place - Salt 7
2nd Place -
Bite Gastrotruck
3rd Place -
Red's Backwoods BBQ
Judge's Pick
for
"Best Alternative Grill Master"
went to:
1st Place -
Green Spot Kitchen
People's Choice Award
for
"Best Boca Burger"
went to:
1st Place - Tucker Duke's Lunchbox
2nd Place -
Bite Gastrotruck
3rd Place -
Benny's on the Beach
THE 2013 BURGER BATTLE WINNERS WERE:
Judge's Pick
for
Best Grill Master
went to:
1st place -
Bite Gastrotruck
2nd place -
Potions In Motion
3rd place -
Shake Shack
Judge's Pick
for
Best Alternative Grill Master
went to:
1st place -
4th Generation
People's Choice
for
Best Boca Burger
went to:
1st place -
Morton's Steakhouse
2nd place -
Rebel House
3rd place -
Potions In Motion
2012 WINNERS WERE:
Judge's Pick
for
Best Grill Master
went to:
1st place -
Rebel House
2nd place -
Gimme A Burger
3rd place -
Big Joe's Burgers & Wings
Judge's Pick
for
Best Alternative Grill Master
went to:
1st place -
The English Tap & Beer Garden
2nd place -
4th Generation
3rd place -
Irie Spice
People's Choice
for
Best Boca Burger
went to:
1st place -
Rebel House
2nd place -
Super Dave's Diner
3rd place -
Red's Backwood BBQ
---